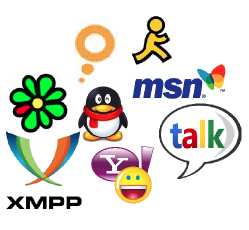 In order to maximize the effectiveness of IM for reference, libraries need to match incoming patron chats to multiple available librarians. LibraryH3lp's IM gateways overcome the one-to-one restrictions that limit IM's effectiveness for virtual reference. With LibraryH3lp, multiple librarians can monitor your public IM identities without disconnecting each other.
Incoming messages from patrons are forwarded through a queue to all available librarians. When an available librarian responds, a connection is established with the patron and the other librarians are notified that the patron's inquiry is being addressed. Patrons can also be transferred between librarians to ensure that they can be directed to the best resource available to meet their needs.
LibraryH3lp works with most popular IM networks. We support any XMPP (Jabber) network plus AIM, Yahoo!, MSN, Google Talk, Facebook chat, and ICQ. Reuse any or all of your library's IM identities within LibraryH3lp and then seamlessly expand your chat service by adding live help to your website and offering SMS reference.