With chat you'll instantly help guests visiting your web pages. LibraryH3lp routes chats to all available staff, to targeted sub-groups, or directly to a specific staffer.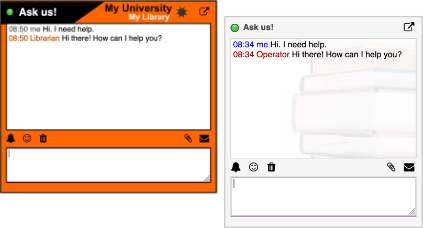 Customizable look and feel. Automatic mobile support.
Accessible via assistive technology.
Configurable behavior: embed within a page, float over a page, or pop out into separate window. Want a tab? Sure!
Use proactive chat invitations to increase chat visibility.
Integrated file sharing and e-mail transcript functions.
Integrates with Facebook, EBSCO, Summon, ProQuest, & more.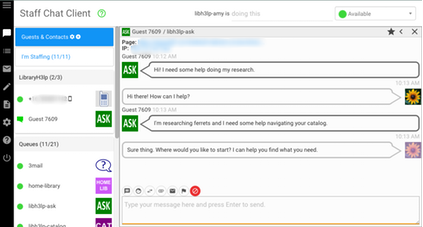 Flexible staffing options, no downloads required.
Auto-respond to waiting guests with customizable greeting.
Create reusable canned (pre-scripted) responses.
Transfer chats between colleagues.
Integrated file sharing and e-mail transcript functions.
Can't fully answer? Tag any chat for later email follow up.
Busy? Finish current questions before receiving new ones.
Block abusive guests.
Transcript storage is optional and off as a privacy default.
Once stored, transcripts can be deleted at any time.
---
Keep chat available to patrons even after you go home. Our partner, Chatstaff, offers optional coverage for libraries to ensure patrons always get help instantly.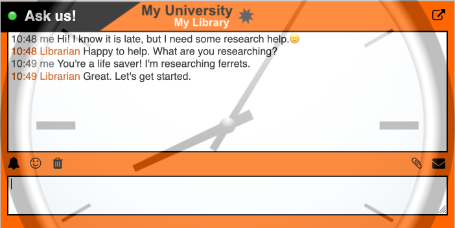 Staffed by ALA-accredited librarians, not students.
Years of experience serving both academic and public libraries.
Create your own back-up schedule or go all in with 24/7/365.
High quality, effective chat coverage plus analytics and FAQ maintenance services.
Under 12 second average chat wait time! Because everybody hates to wait.
Knows how to work with your resources and places focus on licenced resources.
---
A picture is worth 1,000 words when it comes to helping guests. See what your guest sees with LibraryH3lp screensharing. Use the snapshot tool to mark up and send back screenshots.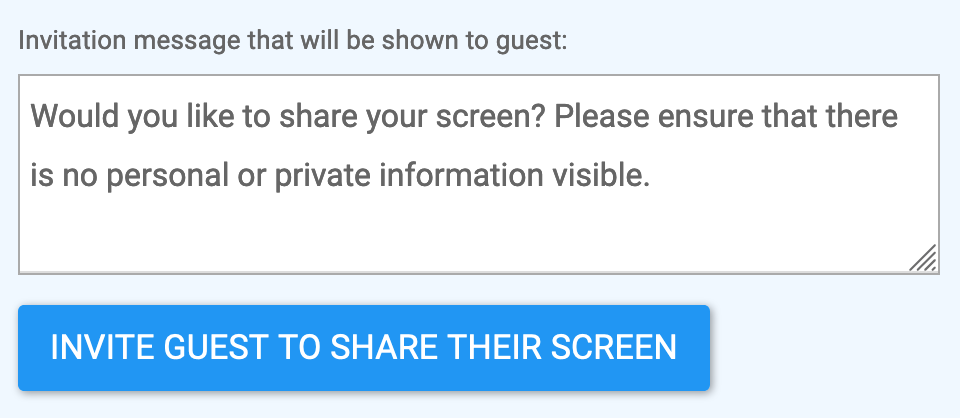 View the guest's entire screen in real time.*
Zoom in, zoom out, and take snapshots of the guest's screen.
Annotate snapshots with rectangles, arrows, text, and more.
Zoom in and crop snapshots to focus attention on points of interest.
Send annotated snapshots back to the guest.
Upload your own screenshots or images as snapshots to annotate and share.
Save snapshots to local disk.
* Available when guests use either Firefox or Edge to chat. Operators may use any modern browser but not IE11 to screenshare.
---
With texting you'll reach mobile guests on the go. LibraryH3lp instantly routes texts to staff or saves texts sent after-hours for delivery when you're next online.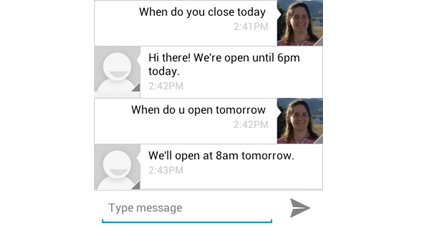 Instant delivery to available staff. No awkward email middle steps.
Use the same interface for answering both texts and web chats.
Transfer texts between colleagues and organizations.
Integrated file sharing and e-mail transcript functions.
Sends your customized auto-reply to let guests know you're offline.
Forward after hours messages to email or hold until you're online.
Forward voice calls to your regular phone or helpdesk.
Reuse your texting number with other products like ILLiad.
No phone or other hardware needed.
Integrates with Google Voice.
---
Guests will help themselves by searching your knowledge base filled with FAQs. LibraryH3lp FAQs work standalone or embedded within any web page and includes a mobile-specific view.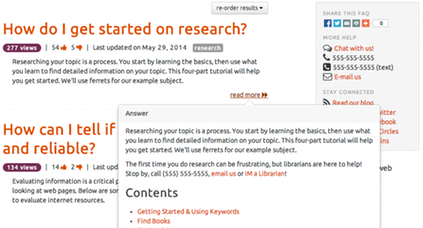 Search suggestions update instantly as guests type.
Sort results by views, last updated, votes, or alphabetically.
Browse questions by topic.
Hover-over previews to see the full answer.
Guests vote answers as helpful or not helpful.
Integrated chat box and e-mail contact form.
Automatic mobile version for guests on smartphones.
Embed your entire FAQ or portions within any web page.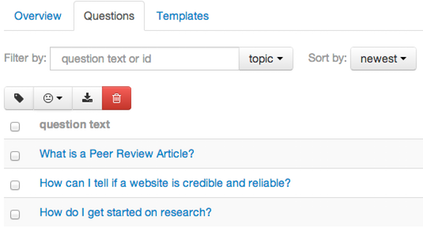 Public FAQs serve as a knowledge base for guests.
Private FAQs serve as a staff-only knowledge base.
Choose from 18 preset themes to get started.
Customize to match your website. DIY or use our free service.
In-place editing for easy content update.
Powerful dashboard for advanced FAQ management.
Free friendly URLs. Use your own domain.
Don't start over. We'll import your existing knowledge base.
---
Reach customers any time via email. LibraryH3lp's 3mail module is perfect for in-depth chat follow up and gathering info from web forms.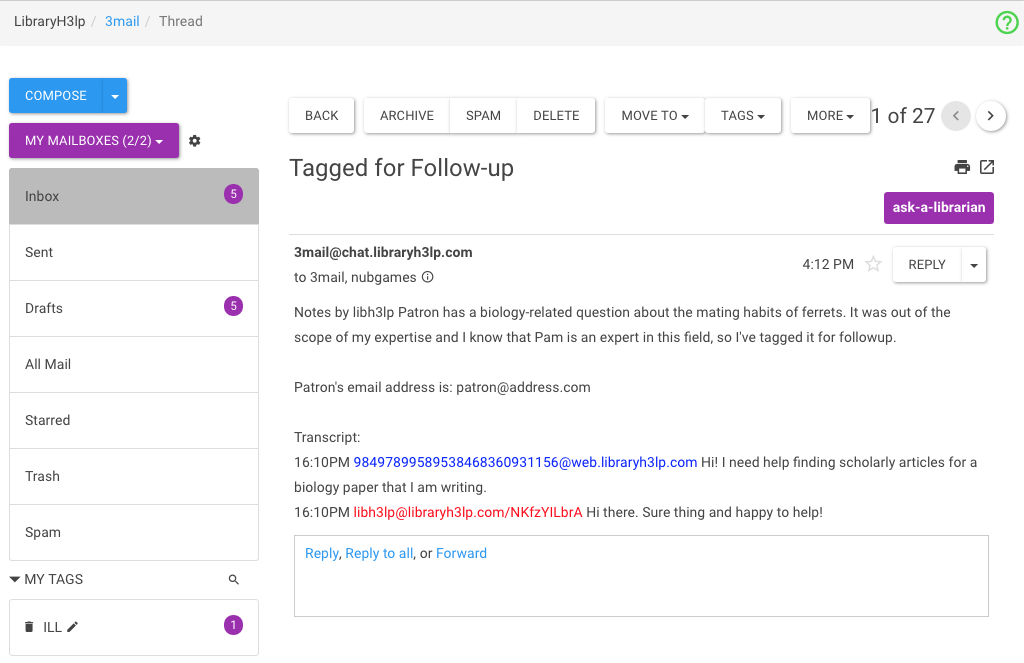 One-click tagging for chat follow up.
Receive information gathered from web forms.
Shared mailboxes organized by department or group.
Categorize email with tags.
Unlimited email history with archive and search features.
Forward from external accounts to keep all email in one place.
Forward text messages sent when chat is offline to email. Replies go back as text messages to guests.
Customizable vacation auto-replies and signatures.
Flexible notifications of new, incoming emails.
Prefer to use your existing in-house email instead of ours? LibraryH3lp's email integration points work just fine with that too.
---
Learn from your past to improve your future customer service. LibraryH3lp provides all the tools you need: comprehensive statistics, collaboration tools, and flexible workflows.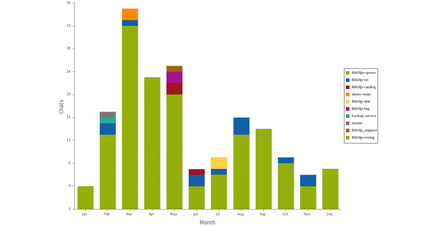 Monitor on-going chats as they happen. Intervene if needed by transferring chats to another staffer, branch, or department.
Review past chats for quality. Download chat metadata in CSV format for futher analysis in any spreadsheet program.
Visualize your overall effectiveness and traffic trends with interactive graphs. Graph data are downloadable in CSV format.
Drill down into the details: chats by hour and day of week, chats per month, chats per queue, wait times by operator.
Send guests to experts or the most relevant departments first. You'll get happier guests while making best use of staff expertise.
Encourage staff to talk to each other with one-on-one chat or conference rooms. Crowd sourcing is your super power.
Visual cues show staff where a guest starts a chat and provide context to get guests help faster.
Build profiles with important info that staff can reference quickly. Shared credentials, common links, assignment hints & more.
---
Build and manage consortial virtual services of any size with LibraryH3lp.
LibraryH3lp works with small collaborations, state-wide services, and beyond. If you can organize it, we can realize it.
Flexible guest routing between members. Home team first is a popular model that directs guests to local staff first if available and to partners otherwise.
Cross-refer and transfer guests between partners.
Cross-communicate with parters with one-on-one or group chat.
Don't have partners? Build a grassroots collaboration with any of the hundreds of organizations using LibraryH3lp.